FALCON FLASH

Dateline:  Cleveland, Ohio

January 25, 2011

Last season an accident nearly cost the life of Ranger, the father peregrine falcon at our study nestsite.  In June, he slammed into a building – possibly during a territorial dispute with another falcon – and sustained severe head trauma.  This left the mother falcon, SW, alone to tend their young.  Since then Ranger has been at the Medina Raptor Center where he has undergone lengthy rehabilitation.  Although pessimistic for quite awhile as to whether Ranger would ever be able live free again, his recovery progressed slowly but surely and he was released back into the wild on Sunday, January 23.

Volunteers Mr. and Mrs. Saladin sent along pictures of the release and described the events:

"Laura [who nursed Ranger through his long recovery at the Medina Raptor Center] opened the cage door, Ranger stepped out, looked up at Laura (which was quite poetic), and lifted off back into freedom!"


"We had hoped that by aiming the carrier toward the dead trees in the wetland he would fly up and perch for awhile, and that's exactly what he did..."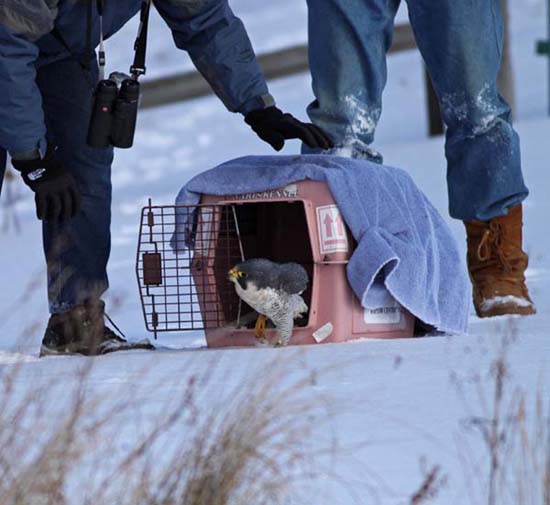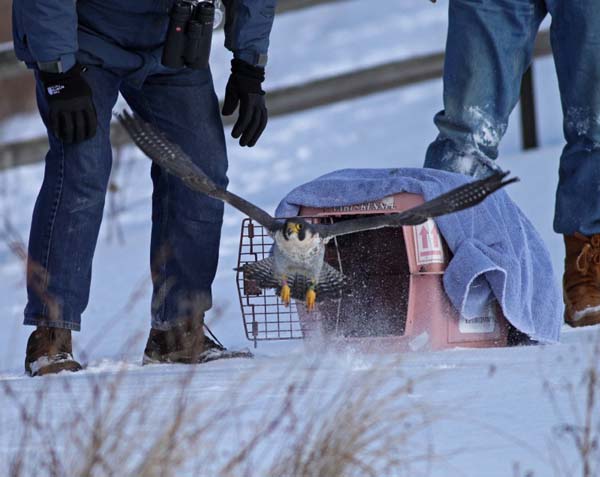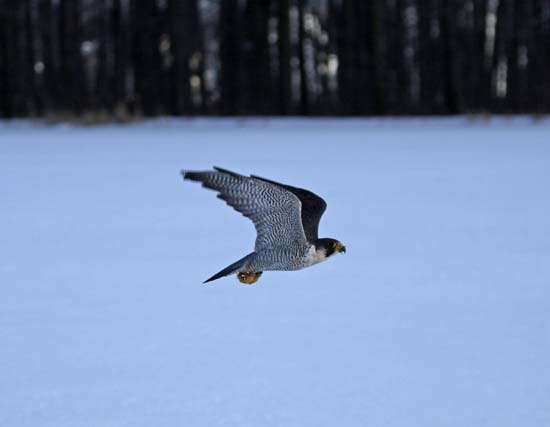 "He … remained in the tree for about 15 minutes, checking out his surroundings, including eyeing an eagle that flew over. Then Ranger took off from the tree, circled and gained some altitude, and then powered out over the wetlands toward the south, and started circling up into the clouds and headed toward the east and out of sight."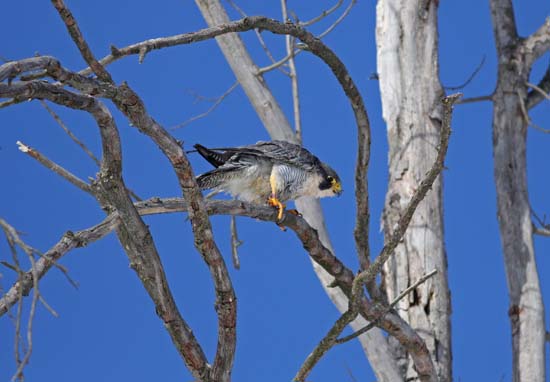 Here is a video of the release:

Meanwhile, back at the skyscraper nestsite, SW has found a new mate during Ranger's long absence.  The new male, Boomer, appeared on the scene in August and they began to bond. In the following picture captured by the FalconCam, they are bowing to each other, which is a peregrine courtship ritual.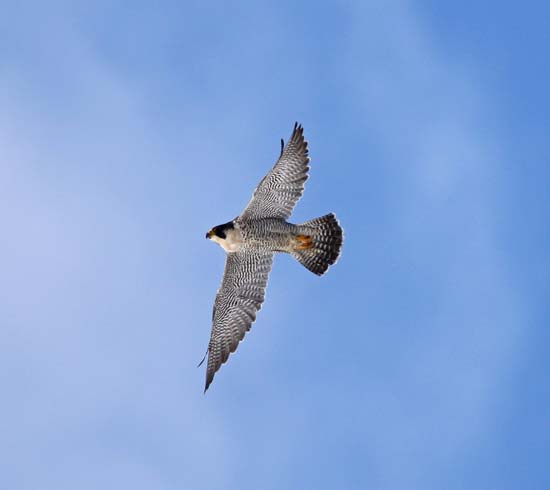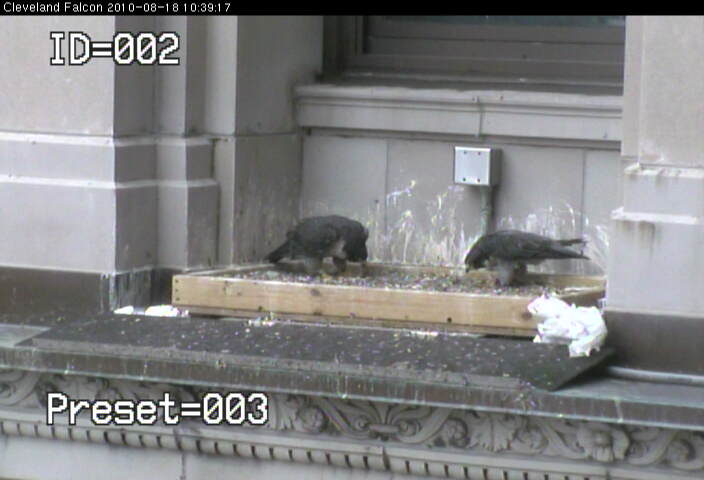 Ranger was cared for by Laura Jordan of the Medina Raptor Center and by veterinarian Dr. Gary Riggs.  The Medina Raptor Center is dedicated to rescuing and rehabilitating birds and specializes in birds of prey.  To learn more about their work go to:  http://www.medinaraptorcenter.org/

Our thanks to Ms. Jordan, Dr. Riggs and the staff of the Medina Raptor Center for their care of Ranger.

Our thanks to volunteer peregrine nest monitors Mr. and Mrs. Saladin for their descriptions and photos of Ranger's release.  Pictures may be used by children for school and/or personal projects, but please give photo credit.  


Click here to read what happened earlier

Will Ranger return to the Terminal Tower nestsite in Cleveland and challenge Boomer?  Peregrine falcons are fierce predators and will fight for control of their territory.  Will SW, who is getting up in years, be challenged for control of her nestsite by a younger female?  The cycle of life begins again soon.  Stay tuned for falcon news………….