Click here to read Part 1 Banding Day

FALCON FLASH

Dateline:  Cleveland, Ohio

May 13, 2008

Banding Day - Part 2

SW and Buckeye proudly announce that their 2008 eyases have been given bands and names.  Because peregrine falcons were on the List of Endangered Species for 30 years and because they are still rare, the birds are banded so that they may be tracked and studied in the future.  Our thanks to the Ohio Division of Wildlife for their care of the peregrines during the time that the species has recovered from near extinction. 

Here are some pictures from banding day.

The drawbridge was raised to keep the chicks from falling over the edge of the building, and the parents became very worried …..


Blood samples were drawn, the chicks were checked over and their bands were attached.  The bands have identifying numbers and codes so that the falcons can be identified in the future.  Band numbers and names are:

S/20  - "Spirit" - female

S/21 - "Tiki" - female

B/60 - "Tiger" - male

B/71 - "Thriller" - male

The chicks were brought into the skyscraper room just inside their ledge…..

As humans opened the window of the skyscraper and began "chicknapping", SW and Buckeye began a series of divebombs.  Note the "falcon shield" used to protect the humans from talons.

And they were very scared………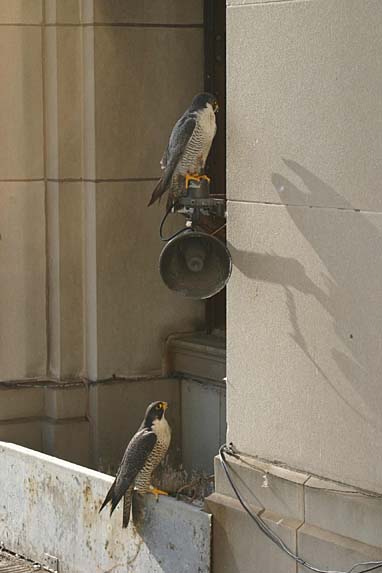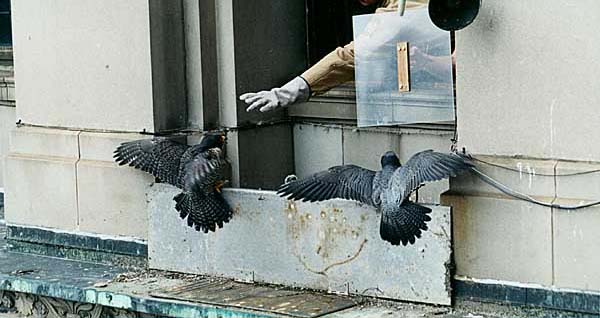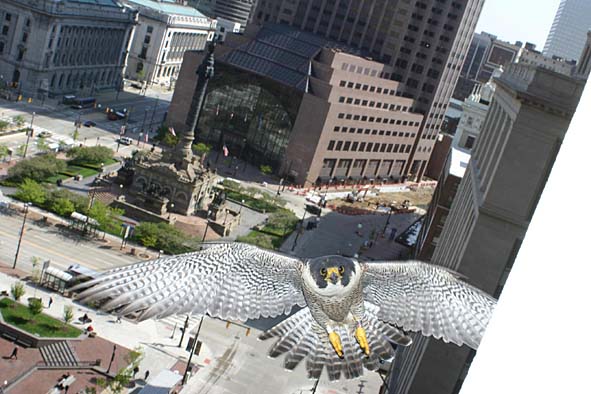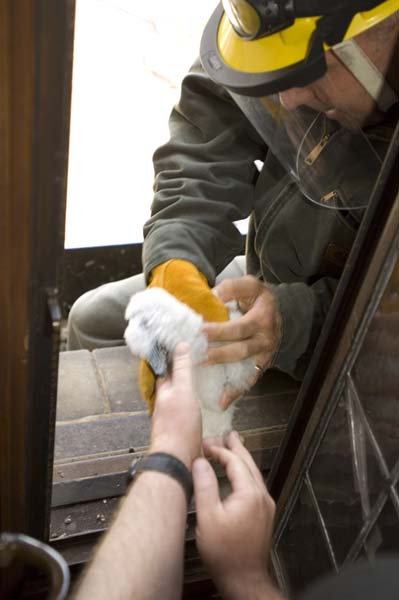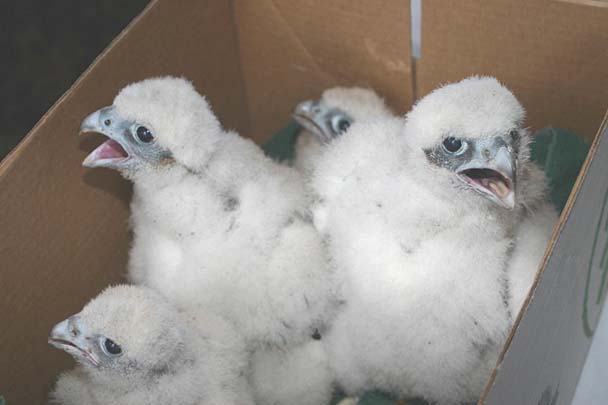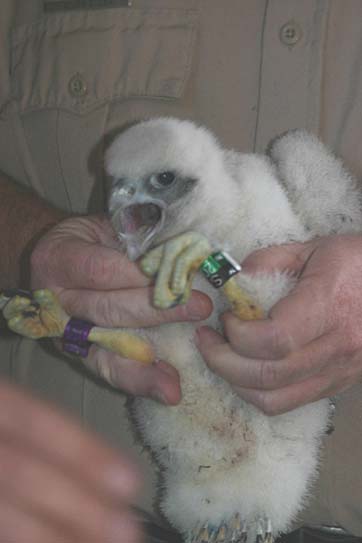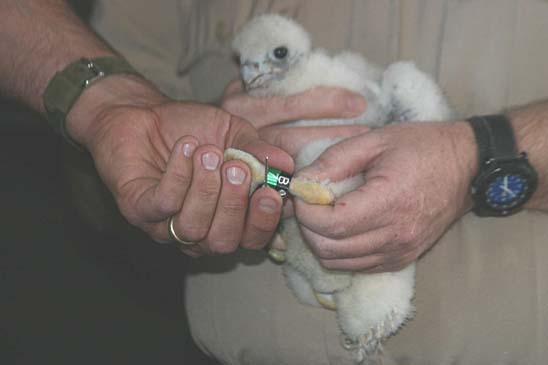 Thanks to those who suggested this year's names:  Spirit was suggested by a student in Miss Wallis' Third Grade Class, Solon City Schools, Ohio.  Tiki was suggested by a student in Ms. Endo's morning science class at Tremont Elementary School in Upper Arlington, OH.  Thriller was named by a student in Mrs. Rasmussen's class in Cayote Canyon, CA and Tiger came from falcon fan, Patty Rickard.

A worrisome situation occurred when banding was finished, just before the drawbridge was let down.   SW was perched on the drawbridge when it slammed down and SW took off.  It appeared that due to the combination of the flap going down and SW taking off, Tiger somehow popped out of the nest!

Falcon fans were worried, but Mr. Wright reassured, "At three weeks the young have in past years begun to flop out of the nest".   After awhile, Tiger returned to the nest safe and sound. 

The eyases are getting real feathers, exercising and thinking about flying.  Believe it or not, they will be as big as their parents and will take their first real flights in just a few weeks.

Our thanks to the Cleveland Museum of Natural History for sponsoring the FalconCams and for the still, and to the Museum's Greg Petusky for the picture of a chick being brought through the window.

Photos are courtesy of Scott Wright.  They can be used in any non-commercial publication, electronic or print, but please give him photo credit.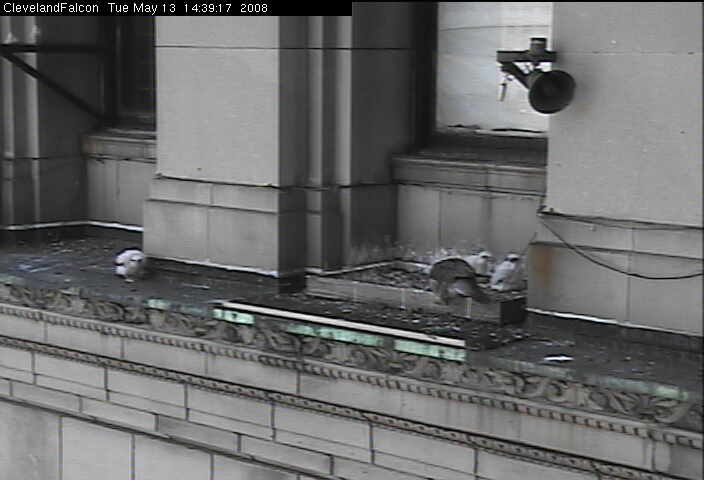 He walked to the left of the nest and huddled in the corner, probably sooner than he was ready to be jumping out of the box.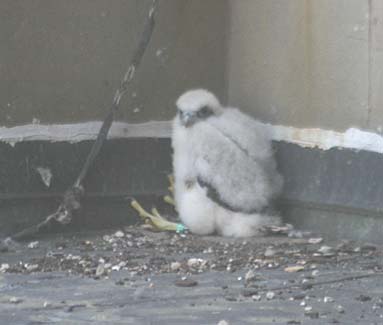 Click here to read what happened next